Supporting a rigorous and inclusive music program takes leadership, innovation, and collaborative partnerships within our community. Each school year, we work diligently to raise the necessary funds to cover the costs of student scholarships, transportation to choral events, entry fees to participate in competitions and festivals, as well as classroom materials and sheet music. Without the support of the generous parents, community members and businesses, this stellar program would not be possible.
Annual Giving

Support Samohi Choral Music by making a fully tax-deductible gift. Annual Giving Donations are cumulative each school year; donors will be acknowledged in the following tiers in the year's printed concert programs:
| | |
| --- | --- |
| Philanthropist | $1000+ |
| Super Star | $500 - $999 |
| Benefactor | $250 - $499 |
| Patron | $100 - $249 |
| Supporter | $50 - $99 |
| Friend | Up to $49 |
SMAPA-Samohi Vocal Music is a 501(c)3 non-profit. Federal Tax ID#95-2563339
To download and print our Annual Giving letter and form,
CLICK HERE
.
To donate securely through Paypal online, click the "donate" button below.
Sweet Serenade Auction Donations and Sponsorships


Santa Monica High School's Annual SWEET SERENADE and SILENT AUCTION will be held on Saturday, Oct. 21st, 2017. The event, held in conjunction with our Bidding For Good silent online auction, will include an on-site drawing, delicious food, and contemporary performances by our remarkable choir students and their ensembles.
The award-winning Choral Music Program of Santa Monica High School is among the most accomplished in the region, competing regularly in state and national vocal music competitions. Our Choirs have performed in Italy, Mexico, Austria, Belgium, Holland, Hungary, Germany, England, and France. In addition, our choral students give the gift of music – performing at community events, sharing holiday music on the Third Street Promenade, and visiting area schools and senior centers throughout the year. Santa Monica High School serves a diverse student body of 3,000 and is recognized as an outstanding contributor to the local arts scene.
Sweet Serenade and our wonderful concerts give all of us an opportunity to celebrate and share the gift of music by engaging new supporters, building awareness of both the excellent Santa Monica High School Choral Program, and the importance of arts in education. Sponsors will be publicized as community arts supporters and will help Samohi continue to offer a first-class music education and cover many necessary program expenses including sheet music, supplies, festival fees, transportation expenses, vocal coaching and tour scholarships so that ALL students can create art and achieve!
To become a Sweet Serenade Program Sponsor this year, please CLICK HERE to access our sponosrship form and more information.
Fundraisers

Sweet Serenade
Samohi Choir's annual SWEET SERENADE is our most important fundraiser, and it's so much fun! This silent auction and concert features pop performances by all our choirs and student-led groups, as well as auditioned solo and small group numbers. For information about this event, including how to make donations, sponsor this event, purchase tickets and more, CLICK HERE.


Restaurant Nights
Skip your regular cooking routine and dine out to support Samohi Choir! Dates and locations vary, so be sure to checkyour email and our Facebook Group for upcoming restaurant fundraisers.

Book Fairs
Shop and support Samohi Choir during our specially designated book fair fundraising drive. Dates vary year to year, so be sure to check your email and our Facebook group for the most recent fundraising efforts!

Private Fundraisers
More info coming soon
Choir Spirit Wear
Choir Spiritwear is a great way to show your Samohi Choir pride. Choir spirit wear is the suggested attire for Sweet Serenade and for the advanced choirs' caroling gigs.
Please CLICK HERE to download and print the new merchandise and order form.
Contact us with questions! This email address is being protected from spambots. You need JavaScript enabled to view it.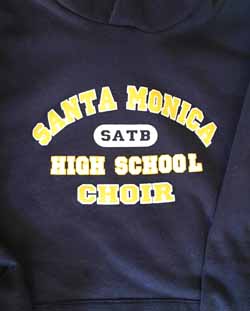 Samohi Choir SATB (soprano, alto, tenor, bass) Sweatshirts and T-shirts in navy blue are now available for sale.
PLEASE NOTE: Gray Sweatshirt no longer available.

Samohi Choir Pajamas are a fun way to show your choir spirit!