Choir Spirit Wear is a great way to show your Samohi Choir pride. Choir spirit wear is the suggested attire for Sweet Serenade and for the advanced choirs' caroling gigs.
Please CLICK HERE to download and print the new merchandise and order form.
Contact Tracy Saltzman, Steering Spirit Wear Chair, with questions! This email address is being protected from spambots. You need JavaScript enabled to view it.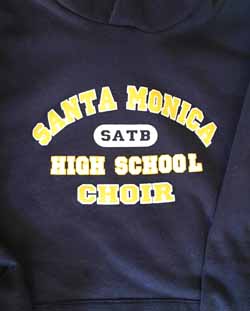 Samohi Choir Sweatshirts and T-shirts in navy blue are now available for sale.

Samohi Choir Pajamas are a fun way to show your choir spirit!