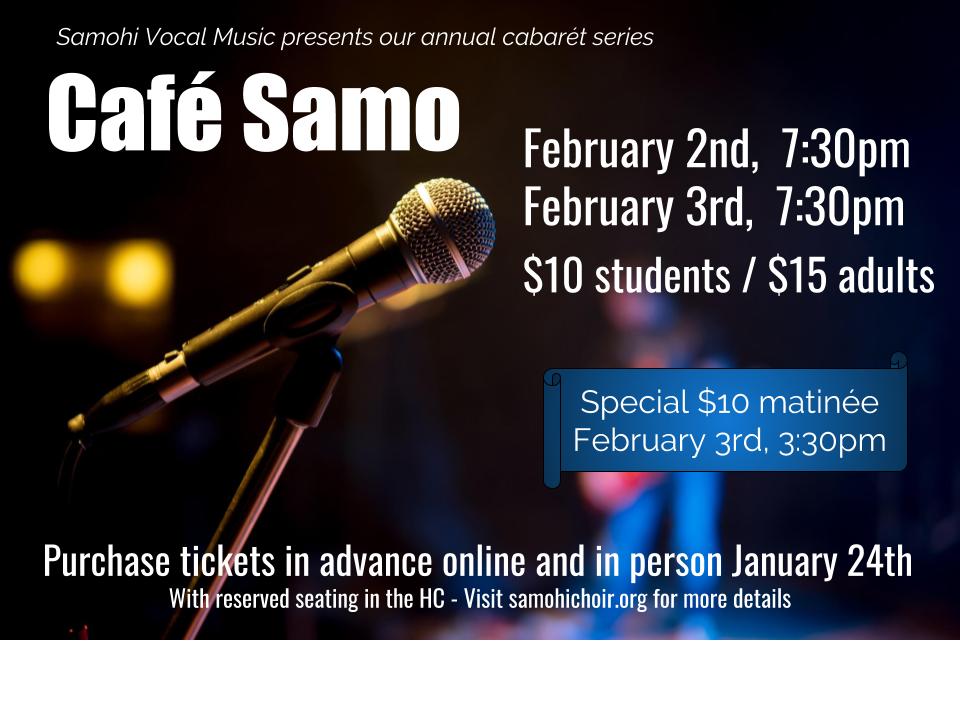 Save the Date - Café Samo is Coming
Don't miss our annual cabarét-style performance series, coming up on February 2nd & 3rd! CLICK HERE for a list of performers.
This student-lead concert event, under the direction of this year's student leaders: Hannah Cohen, Zoe D'Andrea, Sumta Sandhu and Pablo Solano, features acts from talented singers and musicians performing selections from an array of musical genres, including pop, rock, musical theatre, country, and more!
Tickets will be for sale in advance online this year! Reserve your seat in the Humanities Center (HC) at Samohi. Tickets for both evening performances on February 2nd and 3rd at 7:30pm are $10 for students, $15 for adults, plus a special $10 matinée performance on Saturday, February 3rd at 3:30pm. Tickets go on sale on Thursday, January 24th after school. Shows are held in the Humanities Center (HC) at Samohi, a smaller venue with limited seating, so be sure to get your tickets in advance!
TICKET SALES BEGIN WEDNESDAY, JANUARY 24th at 3:15pm.
Tickets will be sold in person ONE DAY ONLY at Samohi in front of the choir room.